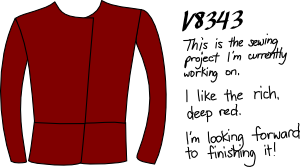 I'm working on a red jacket now. I've been meaning to pick up a red jacket, but I'd never found a dark red jacket with clean and simple lines… so now I'm making one. It helped that there was a sale on Vogue sewing patterns, and that I'd stumbled across this deep red wool while W- was picking up fabric for the dining room cushions.

In other news, sketching is so much easier in a vector drawing program where I can edit my mistakes. Thank you, Inkscape!

You can comment with Disqus or you can e-mail me at sacha@sachachua.com.