I've written a little bit about our garden, but I haven't reflected on how the garden helps me write and vice versa. Does it?
The usual benefits: Weeding and watering provide meditative breaks from the buzz of daily life. The garden teaches me patience and anticipation. It keeps me in better tune with the seasons.
What can I write that hasn't been written before?
I tell people to never let the fear of clichés stop them from starting. After all, writing what has already been written is part of the process of discovering what is your own.
So: Why do I garden?
The mundane: I don't want to pay the premium for cherry tomatoes at the supermarket, but I'll happily invest in the seeds, soil, and screens to grow my own (even if it comes out to be more expensive).
I want to experience the taste of peas picked fresh from the vine, the glint of strawberries in a matted patch, the scent of rosemary lingering as I brush past.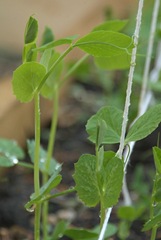 The stubbornness of weeds inspires me, as does the revival of the sage that I'd given up for dead.

Composting fascinates me. It's good exercise, too.

I love the everyday miracles of seeds growing into plants ever so slowly and quickly all at once. Every day is a game of spot-the-difference.

What do I like about gardening? Turning lawn and patio stones into lettuce and tomatoes, putting down roots, and reaching for the sky (perhaps with a little help).

You can comment with Disqus or you can e-mail me at sacha@sachachua.com.