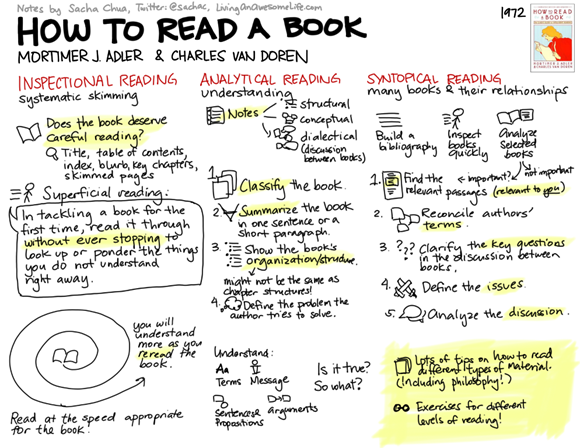 (Click on the image for a larger version of the notes.)

Whenever I want to pick up more tips on how to read better, I turn to How to Read a Book. This is not some speed-reading manual that overpromises and underdelivers. It's a thoughtful, practical guide to getting the most out of your reading: picking the right speed for a book, taking better notes, building a topical index of books and their relationships with each other… (Still working on that!) The book has plenty of tips for reading specific subjects, and even includes exercises to help you improve your skills.

If you already enjoy reading books, this is probably going to be a fantastic book for you. If you're working on getting more books into your life, this might have some tips that will help you read more strategically.

How to Read a Book
Mortimer J. Adler and Charles van Doren
New York: Simon & Schuster 1972 Rev. ed.
ISBN: 0-671-21209-5

You can comment with Disqus or you can e-mail me at sacha@sachachua.com.