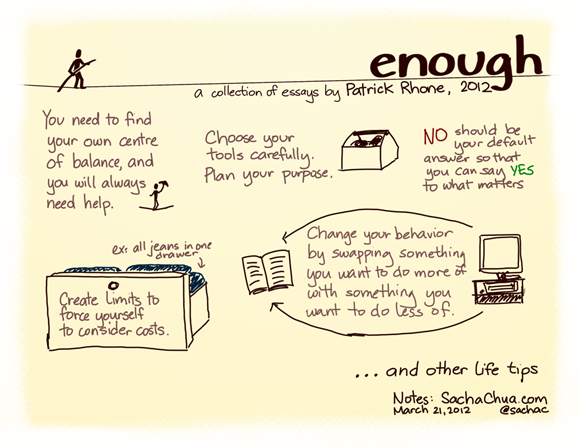 enough is a collection of essays by Patrick Rhone on the idea of having enough. He compares it to the dynamic process of balancing on a tightrope, where you have to find your own centre of balance and you'll always need some kind of help – stretching your arms, using a bar or an umbrella, and so on. In addition to reflections on minimalism and limiting life to make it comprehensible, he includes thoughts on technology, tools, behavioural change, and other life tips.

There are many books in this field, from John C. Bogle's book with the same main title (Enough: True Measures of Money, Business, and Life, affiliate link), to Leo Babauta's The Power of Less: The Fine Art of Limiting Yourself to the Essential…in Business and in Life, affiliate link). Patrick Rhone's book isn't particularly packed with mind-boggling or life-changing insights, but it might still be an enjoyable read for a quiet, reflective afternoon, particularly if you also have a technology-related background or find yourself occasionally tempted down the path of more apps! more tools! more gadgets! (Not that I know anyone like that, no….)

enough
Patrick Rhone, 2012
Kindle e-book

You can comment with Disqus or you can e-mail me at sacha@sachachua.com.