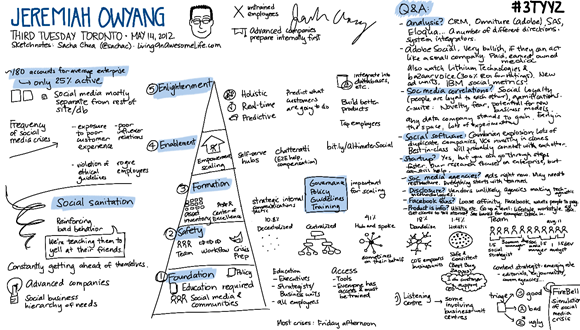 Click on the image for a larger version or contact me for a high-res version (2608x1600px). Feel free to share this under the Creative Commons Attribution 3.0 licence.

Lots of great research released under Creative Commons. Yay Jeremiah Owyang and Altimeter!

Quick notes for searching, more later: Social business hierarchy of needs: Foundation –> Safety –> Formation –> Enablement –> Enlightenment

If you like this, you might also like:

Enjoy!

Here's the text from the image to make it easier to search for:

Jeremiah Owyang
Third Tuesday Toronto: May 14, 2012
Sketchnotes: Sacha Chua (@sachac): LivingAnAwesomeLife.com

untrained employees
advanced companies prepare internally first

~180 accounts for average enterprise
-only 25% active
Social media mostly separate from rest of site/db

Frequency of social media crises
-exposure to poor customer experience
-poor influencer relations
-violation of ethical guidelines rogue employees

Social sanitation
Reinforcing bad behavior
We're teaching them to yell at their friends.

Constantly getting ahead of themselves.

Advanced companies
Social business hierarchy of needs

5 Englightenment
4 Enablement Empowerment scaling
3 Formation asset inventory Center of Excellence
2 Safety Team workflow Crisis prep
1 Foundation Policy
Education required
social media & communities

Holistic
Real-time
Predictive
Predict what customers are going to do
Integrate into databases, etc.
Build better products
Tap employees

self-serve hubs Chatteratti (EZE help, compensation) bit.ly/Altimeter Social

strategic internal communications tactic
Governance
Policy
Guidelines
Training
important for scaling

10.8%
Decentralized centralized

41% Hub and spoke
sometimes on their behalf

18%
Dandelion
COE empowers business units

1.4%
Holistic
Safe & consistent
(Best Buy, Zappos)
I do customer support

Team Aug. 11
1.5 social strategist 3 comm manager soc media manager 1 analyst 1.5 dev

content strategist, emerging role
-editorials, ex. journalists, comm agencies…

Education
-Executives
-Strategists/Business units
-all employees

Access
-Tools
-Everyone has access & must be trained

Listening centre
some involving business unit centres
triage
-good
-bad
-ugly

FireBell simulation of social media crisis

Most crises: Friday afternoon

Q&A: #3TYYZ
-Analysis? CRM, Omniture (Adobe), SAS, Eloqua… A number of different directions. System integrators.
-Adobe Social. Very bullish, if they can act like a small company. Paid, earned, owned media
Also watch Lithium Technologies & bazaarvoice (300% ROI for ratings). New ad units, IBM social metrics.
-Soc media correlations? Social loyalty (people are loyal to each other), gamifications.
C-suite: Novelty, fear, potential for new business models.
any data company stands to gain early in the space, lots of experimentations
-Social software: Combrian explosion. Lots of duplicate companies, VCs investing in clones
Best-in-class will probably connect with each other.
-Startup? Yes, but you can go through steps faster. Our research focuses on enterprise, but can still help.
-Soc media agencies? Ads right now. May need to restructure. Everything starts with earned.
-Disclosure? Vendors unlikely. Agencies making tech-agnostic methodologies.
-Facebook fans? Loose affinity. Facebook wants people to pay.
-Product is info? Utility, etc. Go up a level: Lifestyle, workstyle. G8, IBM.
Get clients to tell stories. See banks for examples. Orsten in.

You can comment with Disqus or you can e-mail me at sacha@sachachua.com.