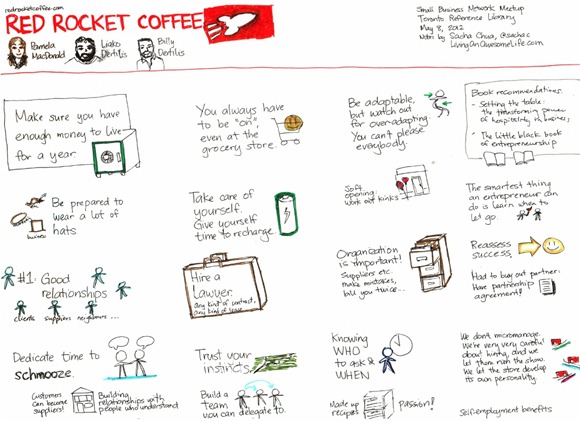 Click on the image for a large version. Want an even better version for printing out? Contact me. Feel free to reuse or share this image under the Creative Commons Attribution license.

We heard from Pamela MacDonald, Liako Dertilis, and Billy Dertilis of Red Rocket Coffee at today's Small Business Network meetup at the Toronto Reference Library. They shared hard-won lessons from building a coffee shop business that now has three locations.

The small business network meetup at the Toronto Reference Library happens on the second Tuesday of every month. You can view my sketchnotes from past meetups:

View more sketchnotes, read my notes about business, or browse around my blog!

Here's the text from the image to make it easier to search for:

redrocketcoffee.com
RED ROCKET COFFEE
Pamela MacDonald Liako Dertilis Billy Dertilis

Small Business Network Meetup
Toronto Reference Library
May 8, 2012
Notes by Sacha Chua, @sachac, LivingAnAwesomeLife.com

Make sure you have enough money to live for a year.

You always have to be "on", even at the grocery store.

Be adaptable, but watch out for over-adapting. You can't please everybody.

Book recommendations:
-Setting the table: the transforming power of hospitality in business
-The little black book of entrepreneurship

Be prepared to wear a lot of hats.

Take care of yourself. Give yourself time to recharge.

Soft opening: work out kinks

The smartest thing an entrepreneur can do is learn when to let go.

#1: Good relationships
clients suppliers neighbours…

Hire a Lawyer. Any kind of contract, any kind of lease

Organization is important!
Suppliers etc. make mistakes, bill you twice…

Reassess success.
Had to buy out partner. Have partnership agreement!

Dedicate time to schmooze.
Customers can become suppliers!
Building relationships with people who understand

Trust your instincts.
Build a team you can delegate to.

Knowing WHO to ask & WHEN
Made up recipes
Passion!

We don't micromanage. We're very very careful about hiring, and we let them run the show. We let the store develop its own personality.
self-employment benefits

You can comment with Disqus or you can e-mail me at sacha@sachachua.com.