Chris Guillebeau's new book The $100 Startup was released just yesterday. Here are my notes! Click on the image to view a larger version.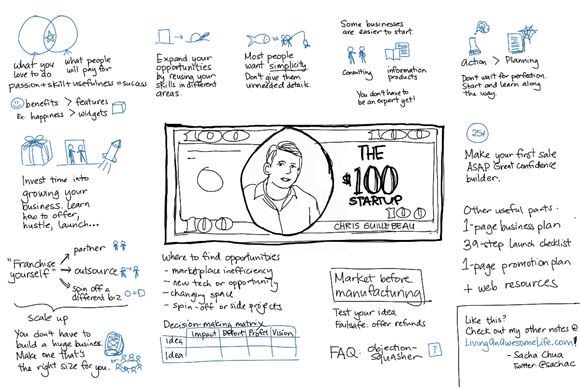 The book is packed with clear, practical advice and backed by concrete, diverse stories from successful microbusinesses around the world. It's not a very deep book (don't look here for step-by-step instructions, thorough analyses of case studies, or hand-holding through the business startup process), but it's an enjoyable read. I'll probably find myself referring to it a lot for inspiration and ideas. If you like this book, you'll probably also like The Lean Startup (see my notes). Enjoy!

Check out more sketchnotes or read about my ongoing experiments in business. I'd love to hear from you!

Here's the text from the image to make it easier to search for: THE $100 STARTUP Chris Guillebeau What you love to do What people will pay for passion + skill + usefulness = success benefits features Ex: happiness widgets Expand your opportunities by reusing your skills in different ares. Most people want simplicity. Don't give them unneeded details. Some businesses are easier to start. consulting information products You don't have to be an expert yet! Action Planning Don't wait for perfection. Start and learn along the way. Invest time into growing your business. Learn how to offer, hustle, launch… "Franchise yourself" -partner -outsource -spin off a different biz scale up You don't have to build a huge business. Make one that's the right size for you. Where to find opportunities -marketplace inefficiency -new tech or opportunity -changing space -spin-off or side projects Decision-making matrix Impact Effort Profit Vision Idea Idea Market before manufacturing Test your idea Failsafe: offer refunds FAQ: objection-squasher 25 cents Make your first sale ASAP. Great confidence builder. Other useful parts: 1-page business plan 39-step launch checklist 1-page promotion plan + web resources Like this? Check out my other notes @ LivingAnAwesomeLife.com! – Sacha Chua Twitter: @sachac

You can comment with Disqus or you can e-mail me at sacha@sachachua.com.