Click on the image for a larger version of sketchnotes. This talk is part of the free MaRS Entrepreneurship 101 series (webcast and in-person session every Wednesday!)
Feel free to share this! You can credit it as (c) 2012 Sacha Chua under the Creative Commons Attribution 2.5 Canada licence.
Arshia Tabrizi: Startup Law 101: Legal Launchpad – corporate organization, intellectual property, contracts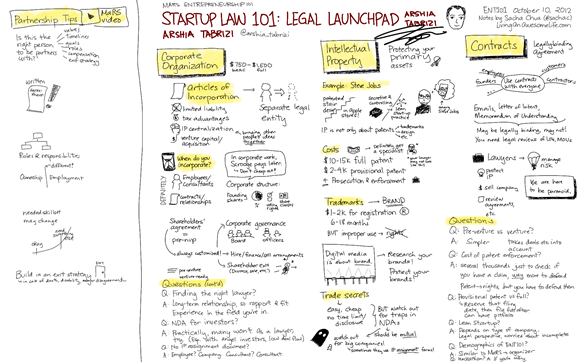 Check out my other ENT101 sketchnotes, or other sketchnotes and visual book notes!

Text for searching

MARS ENTREPRENEURSHIP 101
STARTUP LAW 101: LEGAL LAUNCHPAD
ARSHIA TABRIZI @ arshia_tabrizi
Partnership Tips –> MaRS Video
Is this the right person to be partners with?
– values
– timelines
– goals
– roles
– compensation
– exit strategy
Written
agreement
Roles & responsibilities
Ownership
– different
– Employment
needed skilset may change
Okay
Need something else
EXIT
Build in an exit strategy
in case of death, disability, major disagreement
Corporate Organization
$750 (basic) -$1,500 (full)
articles of incorporation
– imited liability –> Separate legal entity
– tax advantages
– IP centralization –> bringing other people's ideas together
– venture capital / acquisition
When do you incorporate?
DEFINITELY
Employees/ consultants
Contracts / relationships
Incorporate work, Scrooge pays later
Don't cheap out !
Corporate Structure
Founding shares
Voting rights
share classes
Shareholders' agreement
= pre-nup
always cutomized! –> Hire/finance/sell arrangements
Corporate governance
Board
Officers
Shareholder exit
(Divorce, sale, etc.)
pre-venture
venture-ready
Questions (cont'd)
Q: Finding the right laywer?
A: Long-term relationship, so raport & fit.
Experience in the field you're in.
Q: NDA for investors?
A: Practically, many won't. as a lawyer, try (Esp. with angel investors, low deal flow)
Q: No IP assignment document?
A: Employee? Company. Consultant? Consultant.

Intellectual Property
Protecting your primary assets
Example: Steve Jobs
Patented stair design
in appl stroes!
Secretve & controlling Vs Lean start-up practice (Shh!)
I.P. is not only about patents
– trademarks
– design
– etc.
Costs –> Definitely get a specialist
$ 10-15K full patent
$ 2-4K provisional patent
+ Prosecution & enforcement
Your lwer may not look like this
Trademarks –> Brand
$1-2K for registration (R)
6-18 months
But improper use — rights
Digital media is about brand
– Research your brands! Protect your brands!
Trade Secrets
easy, cheap no time limit / disclosure
But watch out for traps in NDAs
should be mutual
watch out for big companies !
sometimes they use IP assignment forms!
ENT101 October 10, 2012
Notes by Sacha Chua (@sachac)
Livinganawesomelife.com
Contracts
Legallybinding agreement
Use contracts with everyone
– Employees
– Founders
– …
– Customers
– Contractors
Emails, Letter of intent,
Memorandum of Understanding
May be legally binding, may not!
You need legal reviews of LOIs, MOUs.
Lawyers — Manage nsk
Protect IP
$ Sell company
Review agreements,etc.
We are here to be paranoid.

Questions
Q: Pre-venture us ventures?
A: Simpler takes deals etc into account
Q: Cost of patent enforcement?
A: Several thousands just to check if you have a claim, way more to defend
Patent –> right, but you have to defend them.
Q: Provisional patent vs full?
Reserve that filing date, then file full after. Can have pitfalls
Q: Lean startup?
A: Depends on type of company, Legal perpsective, worried about incomplete
Q: Demographics of ENT 101?
A: Similar to MaRS–Organizer
Q: Hackathon? A: if you're willing.

You can comment with Disqus or you can e-mail me at sacha@sachachua.com.