Nolin LeChasseur of Brainrider shared these 5 key elements of a B2B content marketing strategy:
Prioritize measurable objectives
Articulate the business you're in using customer terms
Profile target customer segments
Identify content that's working now
Develop content aligned with what your customer wants to know
Click on the image to see a larger version.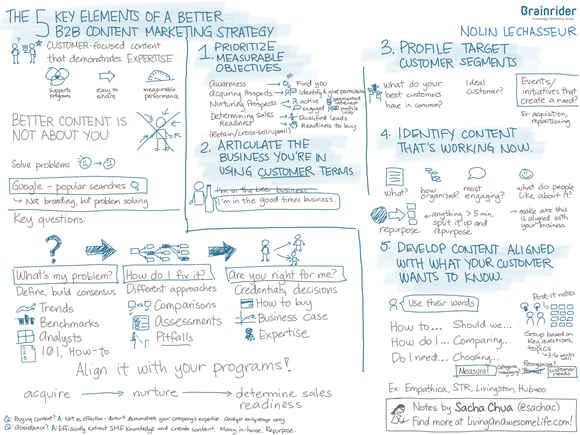 For more details, check out the slides and the video of a previous talk!

Like this? Check out my other sketchnotes for business- and technology-related visual summaries. Want me to draw for you? Get in touch!

Text:

The 5 Key Elements of a Better B2B Content Marketing Strategy

CUSTOMER-focused content that demonstrates ExPERTISE
– supports programs
– easy to share
– measurable performance

BETTER CONTENT IS NOT ABOUT YOU

Solve problems

Google – popular searches: Not branding, but problem solving

Key questions:

What's my problem? Define, build consensus
– Trends
– Benchmarks
– Analysts
– 101, How-to

How do I fix it? Different approaches
– Comparisons
– Assessments
– Pitfalls

Are you right for me? Credentials, decisions
– How to buy
– Business case
– Expertise

Align it with your programs!

Acquire -> Nurture -> Determine sales readiness

1. PRIORITIZE MEASURABLE OBJECTIVES

Awareness: Find you
Acquiring prospects: Identify and give permission
Nurturing prospects: Active, Engaged; Segmented interest, profile info
Determining sales readiness: Qualified leads, readiness to buy
(Retain/cross-sell/upsell)

2. ARTICULATE THE BUSINESS YOU'RE IN USING CUSTOMER TERMS

I'm in the good times business.

3. PROFILE TARGET CUSTOMER SEGMENTS

What do your best customers have in common?
Ideal customer?
Events/initiatives that create a need?
Ex: acquisition, repositioning

4. IDENTIFY CONTENT THAT'S WORKING NOW

What? How organized? Most engaging? What do people like about it?
Repurpose: anything > 5 min, split it up and repurpose
Make sure this is aligned with your business

5. DEVELOP CONTENT ALIGNED WITH WHAT YOUR CUSTOMER WANTS TO KNOW

Use their words

How to… Should we… How do I… Comparing… Do I need… Choosing…

Post-it notes: Group based on key questions, topics: 3-6 works well

Measure! Categories: engaging?
Reorganize: Format -> Customer needs

Examples: Empathica, STR, Livingston, Hubwoo

You can comment with Disqus or you can e-mail me at sacha@sachachua.com.