This sketchnote was captured live during the free MaRS Entrepreneurship 101 series (webcast and in-person session every Wednesday). Feel free to share this! You can credit it as (c) 2012 Sacha Chua under the Creative Commons Attribution 2.5 Canada licence. Click on the image for a larger version of the sketchnotes.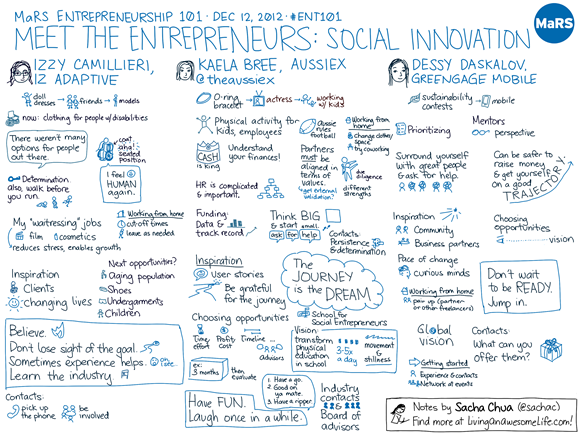 Check out my other ENT101 sketchnotes, or other sketchnotes and visual book notes!

Text:

MaRS ENTREPRENEURSHIP 101
Dec 12 2012
#ENT101
MEET THE ENTREPRENEURS: SOCIAL INNOVATION
Izzy Camillieri, Iz Adaptive
Kaela Bree, Aussiex @theaussiex
Dessy Daskalov, Greengage Mobile

Izzy Camillieri, Iz Adaptive

doll dresses -> friends -> models
now: clothing for people with disabilities

There weren't many options for people out there.
Determination. Also, walk before you run.
coat. aha! seated position
I feel HUMAN again.

My "waitressing" jobs -> reduces stress, enables growth
film
cosmetics

Working from home
cut-off times
leave as needed

Inspiration
Clients
Changing lives

Next opportunities?
Aging population
Shoes
Undergarments
Children

Believe.
Don't lose sight of the goal.
Sometimes experience helps. (oh I see..)
Learn the industry.

Contacts.
pick up the phone
be involved

Kaela Bree, Aussiex @theaussiex

O-ring bracelet -> actress -> working with kids

physical activity for kids, employees
Aussie rules football

Working from home
change clothes/space
try coworking

CASH is king
Understand your finances!

HR is complicated and important.

Partners must be aligned in terms of values. -> get external validation?
due diligence
different strengths

Funding: Data and track record

Think BIG and start small.
ask for help

Contacts: Persistence and determination

Inspiration
user stories
Be grateful for the Journey

The JOURNEY is the DREAM
School for Social Entrepreneurs

Vision: transform physical education in school
3-5 a day
movement and stillness

Choosing opportunities
Time/effort
Profit/cost
Timeline..
advisors

ex: 3 months
then evaluate

1. Have a go.
2. Good on ya mate.
3. Have a ripper.

Industry contacts and Board of advisors

Have FUN.
Laugh once in a while.

Dessy Daskalov, Greengage Mobile

sustainability contests -> mobile

Prioritizing

Mentors
perspective

Surround yourself with great people and ask for help

Can be safer to raise money and get yourself on a good TRAJECTORY.

Inspiration
Community
Business partners

Choosing opportunities
vision

Pace of change
curious minds

Working from home
pair up (partner or other freelancers)

Don't wait to be READY. Jump in.

Global vision

Contacts: What can you offer them?

Getting started
Experience and contacts
Network at events

You can comment with Disqus or you can e-mail me at sacha@sachachua.com.