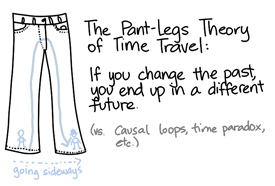 My parents were having problems with their company's recent web hosting migration. No e-mail was getting forwarded to the e-mail accounts that they had set up previously, and the two blogs that were separate from the main site didn't get transferred either. My mom asked me to help restore the blogs. They needed someone to sort out the email and other system administration issues, so I suggested that she find a local system administrator who can also take care of upgrading WordPress and other sites as needed.
I don't particularly enjoy system administration. I feel terrible when I make a mistake on my own server, and I don't want to be on the hook for anyone else's. I've done some system administration work as part of web development, since I was usually the person with the most Linux experience in my teams. Setting up is easy, but maintenance could be fiddly, and keeping up with security updates can be no fun. (I'm looking at you, Rails.) Add to that the time zone differences and the inability to just lean over and fix things, and, well…
So I was feeling conflicted and unfilial about wanting to help my mom but not wanting to commit to being the company sysadmin. The problem needed to be fixed, though, and they probably wouldn't find a good system administrator in time.
As an experiment, I tried imagining an alternate universe in which I would be comfortable making those changes and being The IT Guy (or Gal, in this case). If I lived near my parents, I would help them, of course. I do that for friends and family here. If I had the routines for managing many sites, then it would be easy to maintain another site and another company. I can imagine that for Alternate Universe Sacha, this kind of work might even be easy and enjoyable.
Having imagined this Alternate Universe Sacha, I tried "stepping sideways" into that role. Sure, I was half a world away, but I could mentally move the house to my hometown. Time zone differences and distance can make it difficult to communicate because it's hard to tell how busy someone is and when you get the information you need, but it actually worked out well because I worked on it in the evening while people were at work back home. If I stopped worrying about the possibilities of messing things up worse and instead took the same methodical approach that I would use if I had a lot of experience in this (and I guess I do, compared to many people), then it would actually be pretty straightforward. Besides, I reassured myself, everything will turn out all right. Even if I messed things up, family's still family. For gaining experience, it's hard to find a more forgiving client.
It turned out to be straightforward, although it did involve a lot of clicking around. E-mail works again, and the blogs are both back up. Not only that, I now have an alternate universe Sacha whom I can think of myself as if I need to do more system administration work. I'm using that idea to make it easier for me set up proper maintenance for my personal sites as well. If I was an experienced and constantly improving system administrator who enjoyed doing this, how would I do this? It's no substitute for actual experience–I'll still miss things people learned the hard way–but it helps me reach that point of learning what I need to learn the hard way.
I wonder what alternate universe selves I might play with in the future. Do you use any?