This Wednesday, I'm experimenting with two virtual ways to connect, and I hope you'll join me in figuring things out!
From 3 PM EDT to 4 PM EDT on June 19 (Wed), I'm joining Augustin Soler and Chuck Frey to give a visual thinking webinar organized by Matt Tanguay. We're each giving a 15-minute presentation with Q&A. Augustin will talk about Lean UX Process at Mural.ly, Chuck will talk about 5 Brainstorming Tasks You Can Manage with Mindmapping Software, and I'll talk about How to Use Evernote to Improve Your Visual Thinking. There's a nominal fee of $5, but you can register for free with the promotional code "sachachua".
Spoiler alert! Here are my notes.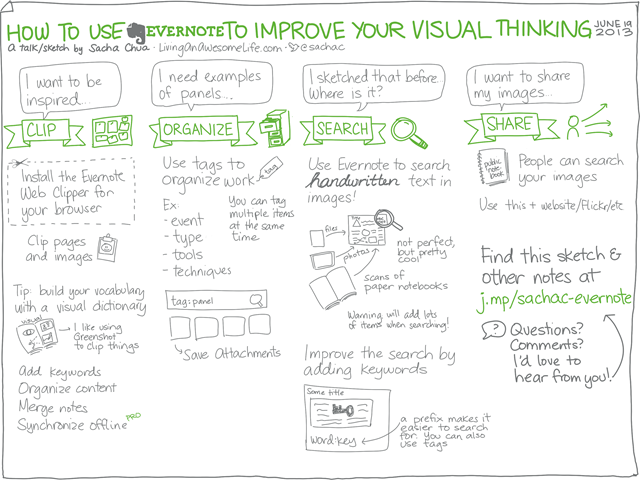 By the way, you can find my public Evernote notebook of sketchnotes at https://www.evernote.com/pub/sachac/sketchnotes .
I'll do a quick demo of my Evernote setup and processes, and I hope people will pick up lots of timesavers and interesting ideas from the short talk. It builds on my previous blog post about how I use Evernote to support my sketchnoting. Since a lot of people don't know that you can use Evernote to search image notes or publish notebooks of your sketches, it's good to share these tips.
15 minutes each is not much time for demo/Q&A, but if people ask lots of questions in the webinar chat, I'd love to answer those questions in follow-up blog posts and conversations. I'll be recording it on my side, and Matt will probably record it on his side as well. Looking forward to sharing the notes afterwards too!
In addition to the webinar, I'm also experimenting with an open Google Hangout about blogging from 8PM to 9PM EDT on Wednesday, June 19. I've been thinking about where we can take this blog and what I can do to make it better, and I'd love to hear from people. Google Hangout seems like an interesting way to connect. =) If I can get to know people through that – what are you here for? what would you like to learn more about? – and get lots of questions either over video or in the text chat, I think that would totally rock. Shall we give it a try?
To give you a sense of what it'll be like, here's a rough sketch that I'll use at the start of the hangout: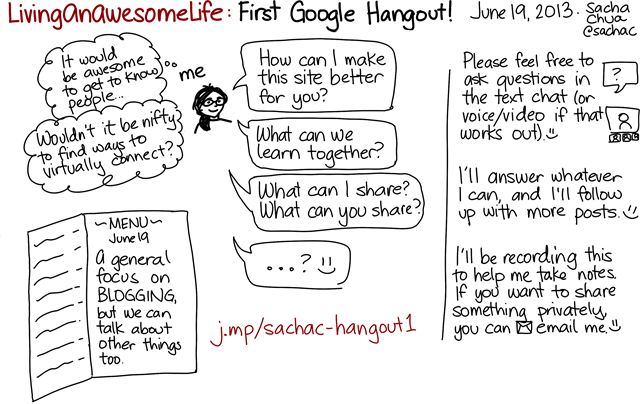 I'm really interested in virtual meetups and communities because I don't want good ideas to be limited to geographic locations. I want to help figure out ways that people can connect and share—visual thinking, sketchnoting, Quantified Self, Emacs, blogging… Although Toronto has a very active in-person meet-up scene, there are all sorts of interesting people around the world, and there's no reason why we shouldn't be able to bump into each other online. Can you help me experiment with these ways and figure out how to do even better?

If you're interested, you can register for the visual thinking webinar (again, free with the promotional code sachachua, but paying for admission helps the organizer defray the cost of the online meeting service) or sign up for the Google Hangout (when it's time for the event, just click on the "Hangouts" link to join the call!). I'd love to hear your questions and suggestions about the topics, and your meta-feedback about these ways to connect online!

You can comment with Disqus or you can e-mail me at sacha@sachachua.com.