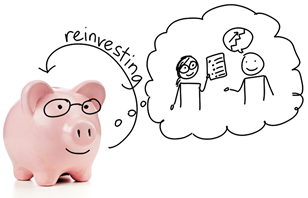 I've been thinking about how I can reinvest profits back into this blog. My default is to save, save, save. There's time to learn through trial and effort However, investing in help and tools has paid off before, and maybe I can get even better at making those decisions. Besides, if I'm going to scale back consulting and focus on other ways to create value, then it makes sense to invest in creating more advantages.
So I'm planning to find an assistant for this blog – someone who can work part-time on an as-needed basis, probably through Odesk.com. This is definitely not about hiring someone to "spin" keyword-stuffed content for me in order to boost SEO, nor do I need someone to keep me accountable when it comes to writing. I want more than that.
I want someone who can help me deliberately improve my blogging skills. I've been working on doing this on my own, and that's going well. I'm getting the hang of outlining. The next thing I want to get better at is synthesizing information (making lists, describing alternatives, etc.) in a smooth, coherent, and non-plagiaristic way, bringing everything together with recommendations or a conclusion. After that, I want to learn how to:
Write better headlines
End strong: conclusion, call to action, question
Start strong: improve first paragraph, regularly set excerpts
Pick better post topics (research, feedback, etc.)
Send e-mail newsletters, perhaps gathering ideas and feedback for upcoming blog posts
Update, organize, and package information resources regularly
I also want to learn how to take advantage of feedback and coaching. Although I have many mentors, I don't have a lot of coaching experiences. The last time I had a coach was for school programming competitions. Our coaches taught us algorithms and strategies. They selected problem sets for exercises so that we could see the concepts in action, and they also simulated contests so that we could learn how to work as a team. I learned a lot more than I did on my own.
PLANNING THE WORK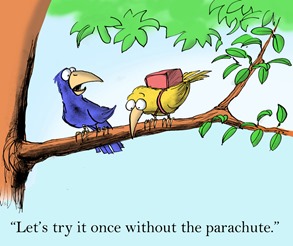 The ideal coach is someone who's good at what I want to learn and good at teaching it. That way, they can model excellence—while explaining what they do and why they're doing it. They can help me identify gaps in my understanding and give me feedback as I improve. They know when to push me beyond what I think I'm comfortable with.
This is what my ideal scenario for a blogging coach would look like:
We pick a skill to focus on, such as synthesizing information.
They recommend some of their favourite role models.
We come up with exercises or challenges (for example, I'm currently working on making sure I have at least one list a week, and that most new posts have images).
I outline the post, and they help me improve the logical organization.
I draft the post, and they help me improve it further.
Even if I can't find someone who is clearly more awesome at the skill I want to learn, a different perspective can also be useful. Someone can help me check whether something makes sense, perhaps suggesting alternatives. Eventually, I want to learn how to put my editing hat on.

In addition to the coach role, there's also value in the assistant role. It would be interesting to see what help with research and editing would be like. People use different keywords, so we might be able to find different resources. Maybe they can help me sift through and prioritize lots of results. The main question is that of relative advantage. I read pretty quickly and I get some value from reading the sources myself, so either they need to do that better than I do, or I need to shift the time I spend reading into something of even higher value.

An ideal scenario for writing assistance could be: I send them an outline and some notes. They send back summaries of the best resources with citations and links. I add personal stories. (This step comes after the research because I may want to apply the advice we find, and besides, that stops me from just looking for confirmatory evidence.) We draft, edit, proofread, and publish.

Besides, it would be nice to have someone turn transcripts into blog-ready content. (Or maybe I need to look around for another transcriber who gets blogging…)

I'm curious about the tools and processes that more experienced writers use, but those can be difficult to transfer. Maybe I'll get lucky and find someone who does a lot of reflective practice.

In addition to getting better and working more effectively, I also want to prepare for situations when I might be more frazzled. It'll happen. That's just part of life. I could do what other people do and not blog, but it's more fun to take notes and learn from the conversation. It makes sense to build that capability now, before I need it. When I'm stressed or sleep-deprived, someone else can check that I'm making sense and that I'm still following a good balance between "useful" and "personal".

JUSTIFYING THE VALUE

I always try to talk myself out of expenses to make sure that I've considered my options. What are some alternatives to paying a coach/assistant?

I can learn on my own based on people's voluntary feedback. Yay comments! I'm doing all right, and I plan to learn for a long, long time. There are plenty of great tips out there. I'm nowhere near the limit of what I can learn for free or from experience. Books and role models can give me passive, general guidance.

I can find or start a blogging mastermind group. Peer-learning may be slower, but I'll benefit from different perspectives, stronger relationships, and shared goals. A facilitated mastermind group with a coach can be more cost-effective, and I can learn from the advice that other people get. I have good informal relationships with a number of other bloggers, although they aren't connected with each other yet.

The alternatives are pretty good, so what advantages can working with a coach/assistant offer to make it worthwhile? Paying someone to help me learn can mean getting targeted, skilled, and consistent feedback. In addition, I can learn more about delegation and coaching, which will be useful for growing my other capabilities.

So it's worth at least an experiment. What could that experiment look like? It probably looks like 2-3 hours of work once a week for at least a month, focusing on applying the skills to one post a week. That way, we can go deep instead of wide. We'll use Google Docs or Draft to share work in progress, maybe with e-mail notifications so that we don't have to check it all the time. E-mail and Google Hangouts can help us clarify or discuss things as needed.

The main risk is that I might forget to assign work, so I should prepare for that by structuring the first month up front and committing to a regular schedule.

At the end of the experiment, I'd like to be more comfortable synthesizing key points from my research and stitching them together in a smooth, coherent, non-plagiaristic way that adds value. Assuming that's the skill we decide to focus on; we could focus on headlines, intros, or conclusions instead. I'm okay with working with different coaches for different things. It makes sense to play to people's strengths, after all.

I'd like to be in the position of wanting to continue the experiment, and being able to justify continuing. I did a similar delegation experiment in 2009 (nearly six years ago!), hiring a number of different editors to give me feedback. At the time, I didn't think it was worth repeating that experiment. (I've grown as a writer, but in different ways – outlining and illustrating have really helped!)

What will be different this time around? I think we'll be less focused on wordsmithing and more focused on developing specific skills. I'd feel better about continuing if I get deep feedback instead of superficial feedback combined with reflective explanations of what's going on. For example, reorganizing a post and explaining why that could make more sense is much better than making tiny word changes. (Unless they're truly awesome tiny word changes!)

I may need to try a few experiments before I learn how to properly set up the instructions and the process, and I may need to work with different people to take advantage of different strengths. I should also experiment with signing up for a for-fee facilitated mastermind group, although maybe I should check if I have the commitment to get through online courses first. (I've been very bad at this in the past.) Lots of different things to try.

In terms of justification, it would be great if I can continue to treat it as a business expense. To keep the Canada Revenue Agency happy, I need to be able to demonstrate that it's directly related to a business with an expectation of income. If I can point to how it will help me sell information products or courses (maybe on a pay-what-you-want basis so that I also feel good about making information widely available), then that will probably be enough for the CRA. If not, I just have to make room for it in my after-tax budget. It's a trade-off between investing in increasing capabilities versus increasing my safety margin for being properly retired, but I think it will be worth it.

What's in it for the assistant/coach? In addition to paying the agreed-on fees, I'm happy to share before/after comparisons and link to people in posts. Naturally, there'll be plenty of process reflections and updates along the way. Teaching someone else how to improve their skills is a great way to improve your own, so that's always nice.

Next steps: I've got one promising candidate, so now that I've fleshed out what I have in mind, I might reach out to her and start the interview process. And hey, if you happen to be a writer-type who's interested, you can check out the job post – working with someone who reads my blog already would be even better. I'm open to hiring more than one person on an as-needed basis (experiments!), so go ahead!

Do you work with a coach or an editor? Can you share any tips for making the most of the relationship?

Image credit: Piggy bank (Oliver Hoffman, Shutterstock); Comic (CartoonResource, Shutterstock)

You can comment with Disqus or you can e-mail me at sacha@sachachua.com.