I've written about my process for breaking down inspiring sketchnotes and building a visual dictionary/thesaurus. Tom suggested that I put together an Evernote shared notebook where I can share examples with you. Since I can't share my main visual library because it uses snippets of other people's sketchnotes, I've been slowly building up a visual library based on my own sketches. As you'll see, I have a very simple vocabulary! Here's my process for building my vocabulary: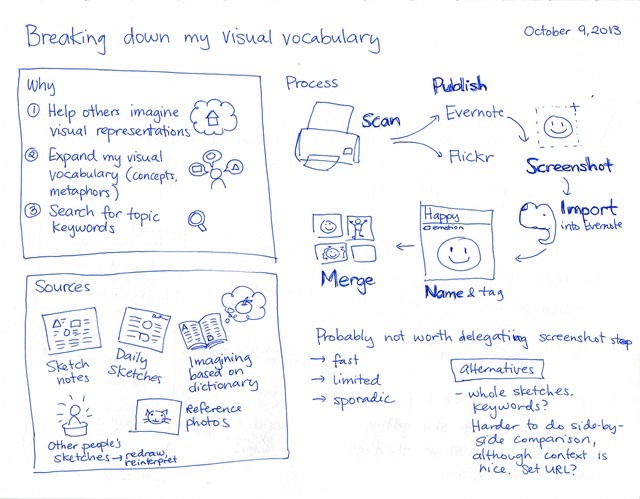 And here's the actual library as an Evernote shared notebook. So far, it includes elements from my sketchnotes from 2013. I'm looking forward to adding more sketches from previous years and my daily sketches, and redrawing some of the more common terms I've seen in other people's sketches.
This is what it looks like in Evernote: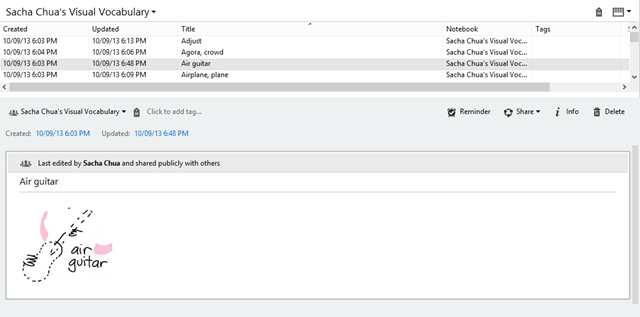 Enjoy! I'd love to see your visual library/dictionary/thesaurus. Evernote looks like an excellent tool for creating and sharing these, and I hope you'll put one together for yourself too. Feel free to browse through and use mine!

You can comment with Disqus or you can e-mail me at sacha@sachachua.com.