Quick note: You can book free help sessions with me through sach.ac/help. There's a listing focused on note-taking/visual thinking, and I have two other listings focused on Emacs and introversion going through the review process. Feel free to talk to me about other topics, too!)
UPDATE 2013/11/07: More notes at the end!
—
I've been looking for ways to make it easier to help people online. ScheduleOnce + Skype/Google Hangout was great, but scheduling was a bit cumbersome, and sometimes one-hour chats felt a little awkward. When Google announced their new Helpouts service, I signed up to be one of the early providers. I started with note-taking and visual thinking because those are useful skills that a lot of people need help with, compared to digital sketchnoting workflows which would be a tiny tiny niche.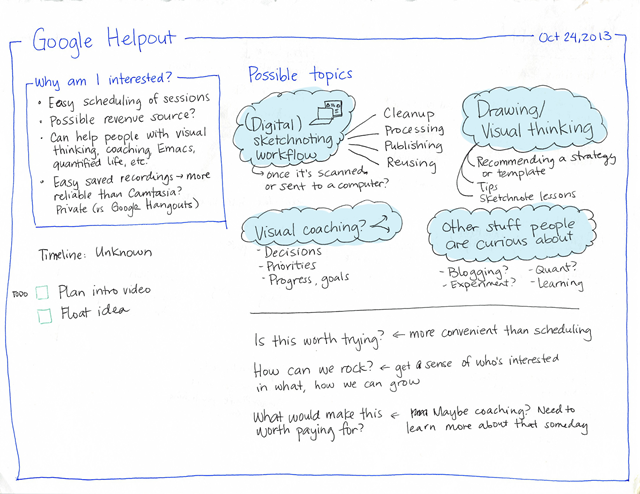 Although Google Helpouts lets you charge for your sessions, I decided to focus on giving help for free instead. I wanted to see what it was like and what I could help people with, and I didn't want people to worry about the cost. I also didn't want to worry about expectations! So I set up my Helpout listing, practised with a few people, and set aside some available slots in my calendar.
My first few Helpouts were surprisingly fun. I talked to a number of people who were either Helpout providers or people who had received invitation codes to try it out. One session turned into an awesome Emacs geeking around thing, which I need to post at some point. =)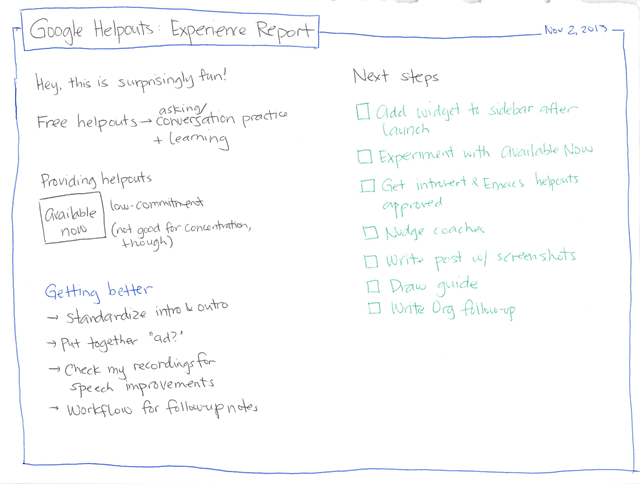 And then it was the official launch day. Google Helpouts was open! I woke up to more than a dozen sign-ups, and my phone kept buzzing with notifications throughout the day. It was exciting and scary at the same time.
Many of the other Helpout providers said they were seeing a lot of no-shows. I didn't mind because that meant I could get a bit of a breather in between the 15-minute sessions. I had some time to e-mail people and ask them some questions before starting, which really helped.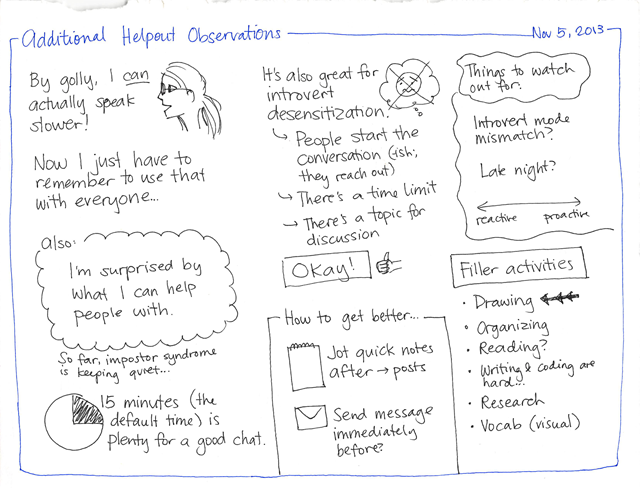 I talked to students about study skills, teachers about teaching, and professionals about mindmaps and other thinking tools. I was nervous going in, but I was delighted to find that the conversations flowed well. I could think of questions for people to clarify what they needed and I shared tips that they could try. Afterwards, I felt a little buzzy, but not as much as I do from presentations (very very buzzed!) or hour-long chats.
Since the service has just launched and I'm offering a free Helpout, many people who signed up probably won't make it to the sessions. Coding is terrible when it comes to interruptions, but drawing seems to be just fine.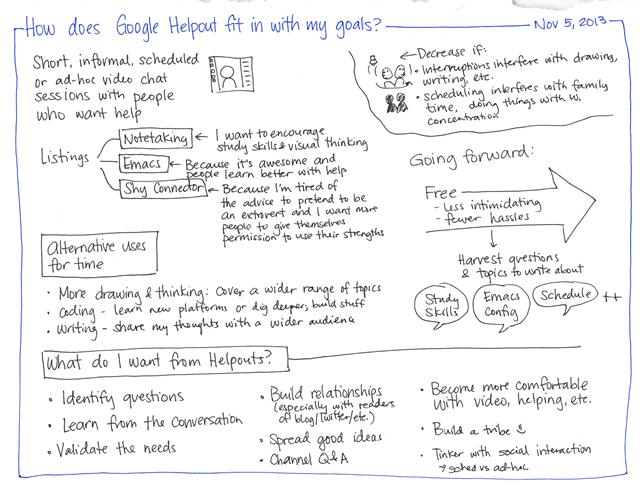 I really like the way answering people's quick questions helps me validate that people want and need what I can share, and it gives me a better sense of who's out there.

Over the next few weeks, I'm going to experiment with how this fits into my flow. Where do I want to put it in my schedule, and how does it interact with the other work I want to do? Because Helpouts can break my time into lots of little segments, I want to make sure I still have blocks of focused time for deep work. I also want to avoid introvert overwhelm, and I want to focus on proactive content instead of letting Helpouts swing me too much towards being reactive. That's why I've been setting aside blocks of 1-2 hours for Helpout scheduling instead of letting it take over my day. Now that we're off Daylight Savings Time, the sun sets pretty early too, so I'm experimenting with another change to my consulting schedule. I want to make sure that I do right by my consulting client, too, and I don't want to drop my personal projects.

Hardware-wise, I like my current setup. I handled all the calls from my newly-re-set-up desk downstairs, with a webcam, lights, and external monitor. I don't want the sessions to interfere with W-'s concentration, though. If he's at home instead of at the gym, I can work in the kitchen with my extended battery. I'll keep an Ethernet cable there as well. The kitchen isn't as well-lit, but it will do.

So it looks like this month's experiment will be connecting through Google Helpouts – reaching out and helping random(ish) strangers. I'm making surprisingly good progress towards my goals of modulating my pace. I'm getting better at matching people. I'm also working on articulating my thoughts without repeating words or phrases, since a stutter tends to shows up when I'm excited. If I can get the hang of harvesting questions from these Helpouts and turning them into blog posts, that would be even better. =)

UPDATE 2013/11/07:

This is working out really well! Most people respond to my intro messages, so I have a sense of what they're interested in before we start. I've talked to lots of people in school who want to improve their study skills, and I'm pleasantly surprised to find that I can offer tips that they hadn't considered. Enthusiasm carries across well in video chats too – it's great to be able to bounce ideas or cheer people on. Best of all, I've been able to connect with people who read my blog or chat with me on Twitter – it's just like jumping into the middle of a good conversation. I'm turning the tips into more drawings, which I'll post on my blog. (Hmm, I should set up a mailing list…) I've set up AutoHotkey shortcuts for my welcome message and various URLs I find myself often sharing. There are occasional no-shows, but I don't mind because I draw and reflect during the gaps. I just leave the Helpout window open in the background as I draw on paper. In fact, sometimes I wish people will miss their appointment so that I can keep on going. And the gradual accumulation of positive reviews is ego-gratifying – it means the stuff I learned along the way is useful, and I'm glad I can share it. =)

All of my slots are booked at the moment, which is a little mind-boggling. I'll probably open up more after December, or maybe even during December once I figure out what my schedule is going to be like. I'm not going to open up a ton more for this month because 1-2 hours a day of intense talking to people is probably a good limit. Some days have slightly more because I got carried away with setting up my availability in the beginning, and I didn't want to cancel any. =) Maybe I'll settle down to ~1-2 hours every other day, and possibly have a mailing list for tips and new availability. It's an awesome feeling helping other people out, although I also want to make sure I keep making progress on my other (quieter) projects! <laugh>

—-

Want to give Helpouts a try? You can schedule a session with me at sach.ac/help or browse through the other sessions at helpouts.google.com. I think you can sign up there to offer your own, too. Have fun!

You can comment with Disqus or you can e-mail me at sacha@sachachua.com.