It boggles me when people don't take minutes during a meeting. How do people make sure that all the important decisions and actions are captured? When people run from meeting to meeting or get buried in e-mail and calendar entries, it's so easy to let things fall through the cracks.
In my consulting engagement, I'm the minute-taker because I'm the fastest typist in the room. (Also, it helps that I can type and participate in the meeting.) At higher-level meetings where the clackety clack of a laptop keyboard might be distracting, I'll keep quick paper notes anyway.
Here are some tips for taking meeting minutes. (Click on the image for a larger version!)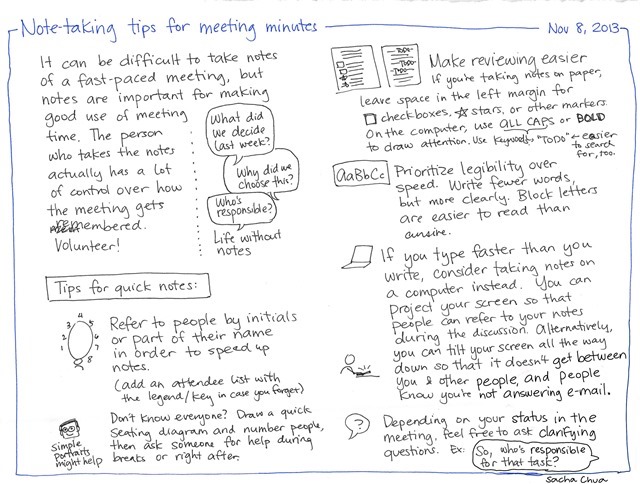 Projecting the agenda/minutes (or sharing them shortly afterwards) helps keep everyone on the same page and catches many possible miscommunications. It's good to remember that you can guide the flow of the conversation with questions. I often work with the meeting chair to make sure that we cover the agenda at a good pace, and that agenda items that need decisions or tasks are neatly wrapped up. You can create a lot of value by taking the minutes, so volunteer for this whenever you can.

You can comment with Disqus or you can e-mail me at sacha@sachachua.com.