An extended vacation is a great opportunity to examine the routines that you take for granted. You stop doing some things and postpone others. It's surprising how flexible day to day life is, how much you can put on hold.
We were away for a month. For a month, I didn't schedule appointments or conversations. For a month, I postponed e-mails and decisions. For a month, I had no library books on the go, no projects to work on, no focused topics for learning and exploration.
Now we're back home and slowly returning to our normal life. I started cooking in bulk again, freezing 14 chicken curry lunches to save us time in the weeks ahead. The cats are back from the boarding place, so there's that 15-30 minute daily commitment to pet care. I have quiet time for myself again, truly discretionary time. What routines and activities do I want to restore? What do I want to put back slowly, carefully, intentionally? What do I want to lessen or reconsider?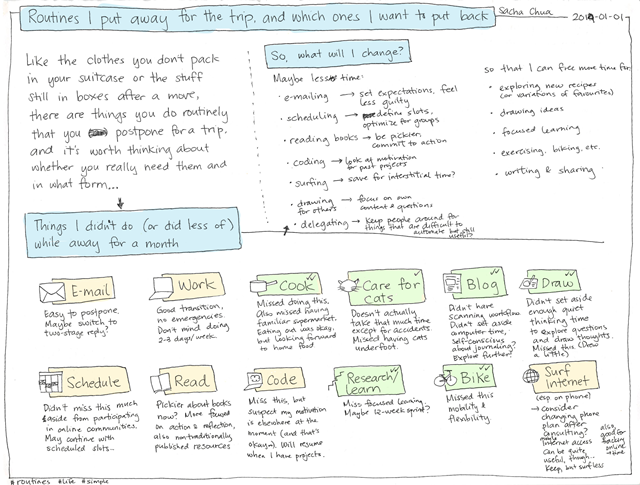 Click on the image to view a larger version.

I drew during the vacation as an aid to thinking, but not as much as I did at home. I'm back to my normal rhythms of drawing and writing, although it will take me a little time to ramp up to the same kind of buffer I enjoyed. I like this and will do more of it.

Being picky and guiltless about e-mail seems to work out fine. I answered almost all my mail, although some replies took weeks. The world didn't end.

Work feels less urgent, too. Good transition. No emergencies. I'll work on this for another couple of months, and then we'll plan again from there.

Less time reading, perhaps. I reviewed the list of new business books from the library and didn't feel called by any of the titles. There's so much I want to learn, but maybe I'll try more targeted searches – reading specific books or websites, perhaps, instead of just picking through what's new.

Sometimes I look at how little time I've spent directly writing code and wonder if I'm slipping into that vicious cycle of rustiness and impostor's syndrome. I remind myself that I've felt that way about Emacs and Rails and WordPress before, and still there are ideas and projects that lead me back. I don't have to waste energy on second-guessing myself. I'll come back to this in time. For now, I'm focusing on learning how to share what I'm learning. When I return to focusing on coding, I can use these skills to share even more. The important thing is for me to keep that confidence that I can learn what I want to learn – as long as I have that, I can pick things up again.

I miss biking. I want to set up a winter exercise routine to get me through those cold and dangerous months. Maybe something I can do at home, so I have no excuse. We have weights, I have an exercise partner, I should be able to make this work.

A vacation is an excellent excuse to disrupt routines, since people automatically understand. I wonder how I can do this even during a staycation. Perhaps a vague "I'm taking a break and will get back to you in a month?" It's useful to interrupt your life so that you can see what you take for granted and be deliberate about what you put back.

Are you returning from an extended break? What have you learned about your everyday life?

You can comment with Disqus or you can e-mail me at sacha@sachachua.com.