I'm with the Stoics rather than the Aristotelians on this one (or at least based on how I understand things): all you need for a good life is you. I'm not wise enough to know whether that's true, but I think that it's better for me to live as if that's the case instead of thinking that happiness can be that much influenced by luck and external events. Challenge accepted!
I'm starting to understand what I'd like to aspire to be when I've infused whatever wisdom I can get from philosophy into my reflexive responses to life's situations. I'm not trying to get through life completely unruffled and serene. Stuff happens. I get sad. I get excited. I get scared. I get delighted. I react to the world around me.
At the same time, I like this ability to step outside of these impressions. I can see myself even as I laugh or cry, working on separating the facts from what I think about them. I can enjoy the ups and downs and yet not get carried away by them. I can be happy that something I cooked turned out well and that people liked it; and I can know that in the grand scheme of things, it's insignificant (but worth doing anyway). I can be scared about the possible downsides of something I'm going to try anyway; and I can know that in the grand scheme of things, it's insignificant (but worth doing anyway). Something can happen, and I know that I could respond to it in many different ways.
Whatever life throws at me, I can choose to respond and not just react. Sure, the first few moments might be more instinctive–pain hurts, joy elates, sometimes I say the wrong thing–but what happens after that is up to me.
I'd like to avoid getting carried away by stuff, the way people get consumed by grudges or misled by temptations. I think that's what the Stoics meant in their focus on ridding themselves of passions–not "passion" in the modern sense of "things I feel awesome about and enjoy doing," but rather the kind of "passion" that takes over your reason and leads to suffering.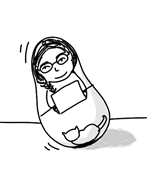 I guess I'd like to be like a roly-poly toy, like the egg-shaped Weebles of the slogan "Weebles wobble but they don't fall down." Then the Stoic idea of a passion might be wobbling so much and not quite being the shape that you need to be to bounce back, ending up so far off your center of mass that you stay down (or at least until other people help you get back up, because really, sometimes people do get wobbled more than they can handle, and that's an opportunity for other people to help out).

So far, I've been extraordinarily lucky. It's been easy to return to normal from the little things I've come across so far. You know how some video games are designed to gradually help you learn different skills and others throw you in the deep end? So far my life has been like the former. When things come, they're within my range and I have the support structure that makes them easier to deal with. So I guess that's like I'm playing a game where you get just enough wobbling so that you can correct your mass distribution or egg-shaped profile in order to wobble back better.

Which is sort of Stoicism, I think. Stoicism helps with adjusting so that you can deal with bigger and bigger wobbles if you need to. Stoicism reminds you that you are not the wobble that pushes you. You don't control the wobble, so why bother stressing out about it? You can get better at bouncing back. You can work on becoming the weebliest Weeble.

I sometimes hear from people who are playing a much harder game, where they have to deal with pretty darn big wobbles before they've been able to sort things out. I'm not sure I have that much to offer. Newbie tips aren't as useful for people stuck playing life on the "hardcore" setting, I guess! I can say that I'm working on being a better roly-poly toy and that it seems to be working out so far, but I definitely haven't wobbled as much as other people have. But maybe reflections from someone living an easier version of the game can help people think about little aspects of their own games, either from the actual thoughts or even just the process itself.

One of the thoughts that helps me is this: wobbling's what makes Weebles Weebles. So as much as I'm sure people wish for care-free lives, I'm okay with there being some wobbling in mine. I might not actively seek out really wobbly situations, but if they're there, they're there, and they can help me be better. Eventually, perhaps, experience will let me bounce back quickly from minor disturbances (or even ignore them entirely); and more and more things will seem minor, too.

In the meantime, wobbling away!

You can comment with Disqus or you can e-mail me at sacha@sachachua.com.