So I was reading through J. B. Rainsberger's site because I liked his blog post on Productivity for the Depressed, which I mentioned in my post on learning slack. His about page had this nugget that made me stop and think. He wrote:
I have found over the years that many companies request training when they need coaching, and request coaching when they need training. Tim Gallwey's The Inner Game of Work makes the distinction very well:

training focuses on increasing capacity
coaching focuses on reducing interference
performance is capacity minus interference.
Reducing interference. Huh.
I've been curious about coaching. I haven't quite made the jump because I'm a cheapskate who's accustomed to introspection and who's flexible about motivation. I figured I might as well see how far I can get exploring on my own, yeah?
But I know there are times I get in my own way, and I know that I probably don't know even half of the times that happens. Interference.
So here's what W. Timothy Gallwey's The Inner Game of Work says: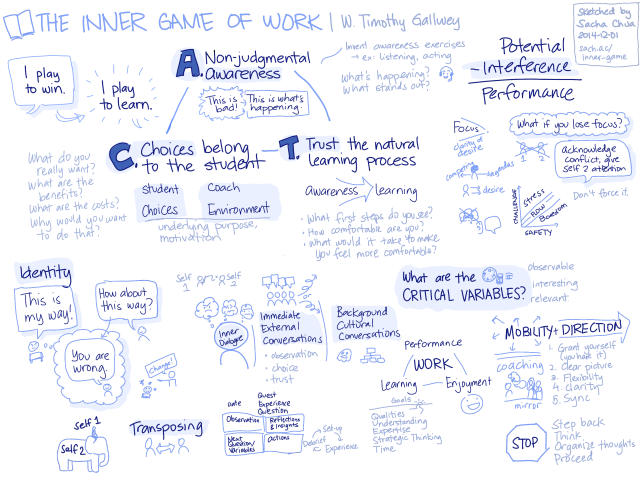 I like this book. The author shares many examples of how paying attention to tiny details can help you learn more effectively, and how a coach's role isn't to provide answers but rather to help draw the student's awareness to the right things and encourage them to trust in their own learning process. The book is useful not only for individual change but also for group change.

The Self 1 / Self 2 distinction resonated with how I've been thinking about motivation. It reminds me a little of the driver (Self 1) / elephant (Self 2) metaphor used in Chip and Dan Heath's Switch: How to Change Things When Change is Hard. The answer to internal conflict isn't "try harder," it's to understand better and give yourself the time and attention you need.

I'm paying closer attention to the skills I want to develop. I'm practising more deliberately and with more focus. And when my Self 1 pipes up with "Shouldn't you be doing something else instead?" or "Let's go find someone with all the answers who can tell us what to do!", I tell it, "It's okay. Self 2's got this. We're learning how to learn, and everything is going to be okay."

This still leaves me uncertain about getting an actual coach instead of asking myself questions from books. Since I can see big areas for improvement even on my own, I figure I'd go for the low-hanging fruit and keep going until I hit diminishing returns. Maybe someday. In the meantime, this book has given me a few things to think about.

If you're curious, you can check out more reviews of this book on Amazon: The Inner Game of Work: Focus, Learning, Pleasure, and Mobility (affiliate link)

You can comment with Disqus or you can e-mail me at sacha@sachachua.com.