Lots of sewing last week, experimenting with zippered pouches, leggings, and cotton lawn. I prepared a quick Quantified Self talk sharing some of the numbers from my sewing, too.
More thoughts on fuzziness and sharpness, and how to make the most of the cycle between them.
Oh, and biking, yay!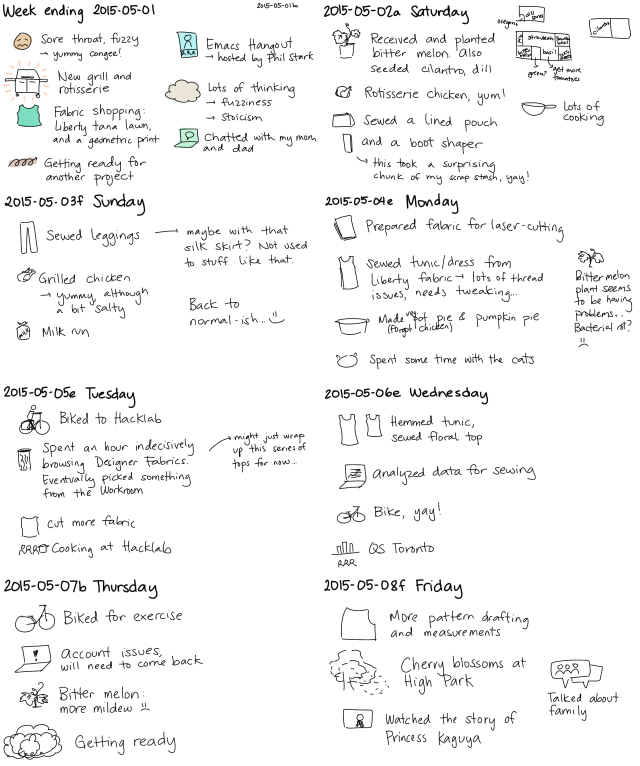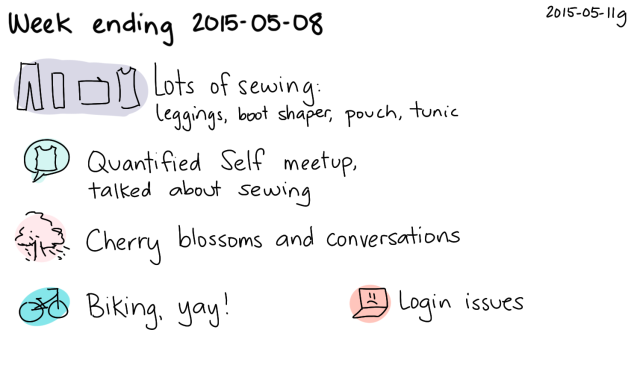 Blog posts
Sketches
Focus areas and time review
Business (19.6h – 11%)

Earn (2.9h – 14% of Business)

☐

Earn: E1: 1-2 days of consulting

Build (15.7h – 80% of Business)

Drawing (12.0h)
Paperwork (0.0h)

Connect (1.0h – 5% of Business)

☑

Attend meetup

☑

Research Quantified Self

☐

Process Quantified Self Toronto videos

Relationships (4.3h – 2%)

☑

Holiday get-together with W-'s family

☑

Check out cherry blossoms

[-]

Call tomorrow to see if Sunday morning is okay for cat grooming

Discretionary – Productive (27.0h – 16%)

Emacs (0.2h – 0% of all)

☑

Announce Emacs Hangout 2015-05-13

☑

Work on menu planning in Emacs

☐

Reschedule Emacs Lisp Development Tips episode with jwiegley

☐

Host Emacs Hangout

Sewing

☑

Modify pattern for tops to cut out bias

☑

Iron and prepare cotton lawn top

Writing (8.0h)

Discretionary – Play (6.7h – 4%)
Personal routines (35.8h – 21%)
Unpaid work (13.5h – 8%)
Sleep (61.0h – 36% – average of 8.7 per day)
You can comment with Disqus or you can e-mail me at sacha@sachachua.com.