This was an excellent week for learning. W- bought a small riveter in order to fix the rake, and he showed me how to use it. Whee!
In terms of sewing, I learned a different way of attaching collar stands and stitching hems. I experimented with making a long-sleeved peasant blouse, too. I like short sleeves more (long sleeves get in the way of washing dishes and things like that) but it was a good thing to try.
I've been going through the Latin 101 course by Prof. Hans-Friedrich Mueller. The first three noun conjugations are starting to make sense to me now, hooray! Unfortunately, the guidebook turns out to have quite a few errors. I ran into a couple of mislabeled exercises in Chapter 12, and there doesn't seem to be an errata page. I was thinking of flagging the ones listed in this Amazon.com review with sticky notes so that I don't get confused by them when I come across them in the book, but maybe it's better for me to just switch to Wheelock's Latin.
I had fun getting together with former coworkers, chatting about business and social trends over breakfast at Sunset Grill.
There was hail last Saturday, and the weather's been cooling down. Fall colours everywhere, too. I bought a new pair of winter boots, since my old ones were leaking. The online reviews are mixed, but we'll see what my experience with them is.
Next week, I'm looking forward to more Emacs, more sewing, more code, and more learning. Yay!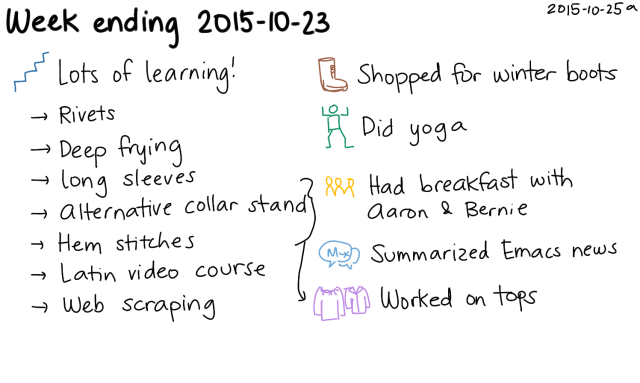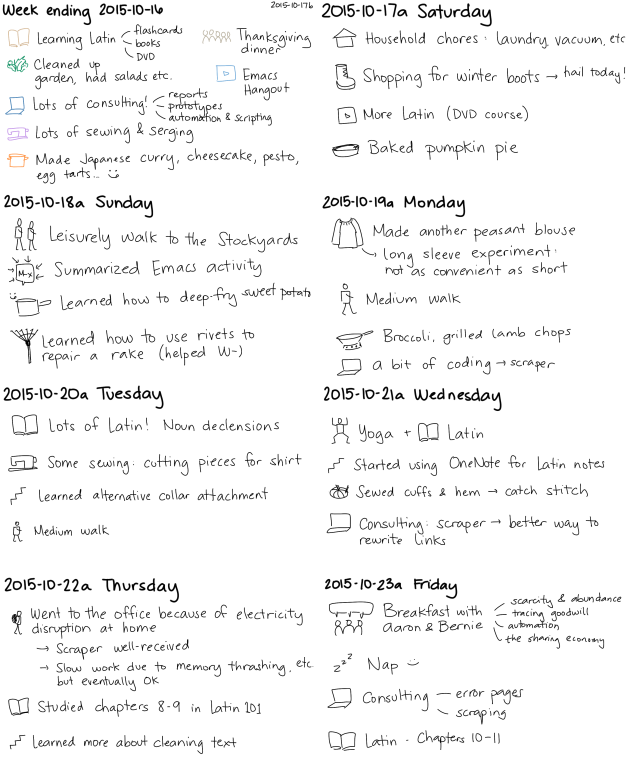 Blog posts
Sketches
Focus areas and time review
Business (25.3h – 15%)

Earn (20.7h – 82% of Business)
Build (2.7h – 10% of Business)

Drawing (2.7h)
Paperwork (0.0h)

Connect (1.9h – 7% of Business)

Relationships (5.5h – 3%)
Discretionary – Productive (24.7h – 14%)

Emacs (1.3h – 0% of all)

☑

2015-10-18 Emacs link round-up

☑

Fix How to Read Emacs Lisp

☐

Do another Emacs review

Sewing (11.0h)
Writing (2.7h)

Discretionary – Play (3.1h – 1%)
Personal routines (31.8h – 18%)
Unpaid work (13.9h – 8%)
Sleep (63.7h – 37% – average of 9.1 per day)
You can comment with Disqus or you can e-mail me at sacha@sachachua.com.