Posted: - Modified: | life
In anticipation of more fuzzy-brain time-confetti, I've been thinking about what I can do with short, scattered moments. The considerations are:
They should be activities that I can pick up and put down at a moment's notice: minimal switching costs and easy availability
They should be useful or enjoyable, and ideally both
Ideally, they should build up over time
Here's a list of things I often find myself doing:
Reading: nonfiction, fiction, random Internet browsing. Dusted off my Kindle and loaded it up with a few tech manuals and some fanfiction. Great for walking around, since I can use the page buttons even with gloves on.
Tidying up or preparing: there's always something that needs to be done
Checking out the Emacs community to see if I can answer a quick question or learn from other people's conversations
Drawing an index card or two
Playing casual games
I think games are worth thinking about a little more, even though I'm tempted to focus on the more useful activities. There are a lot of people who spend a lot of time thinking about how to make gaming more engaging. It's a big industry. I wonder if I can turn it to my own purposes.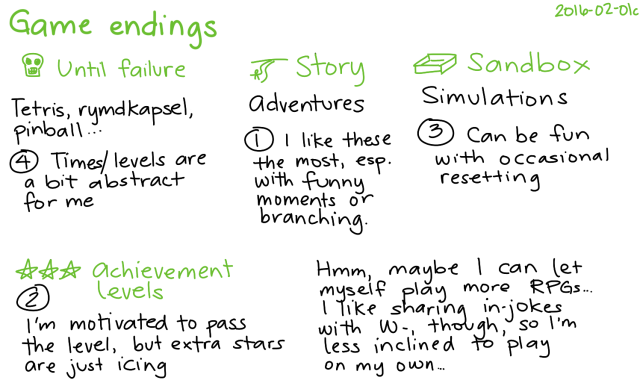 2016-02-01c Game endings – index card #gaming.png
I tend to like games with stories that have funny moments, like RPGs or LEGO games. Since games like that tend to require space and development effort, I play them on the PSP or the PS3. I've learned I'm not a completionist when it comes to achievements or levels – I like passing a level, but I'm not driven to reach three out of three stars. I can enjoy open-ended sandbox simulations. Games that go until failure tend to be a little depressing after a while – the abstract achievement of lasting a certain time or reaching a certain level doesn't tickle my brain the same way other things do.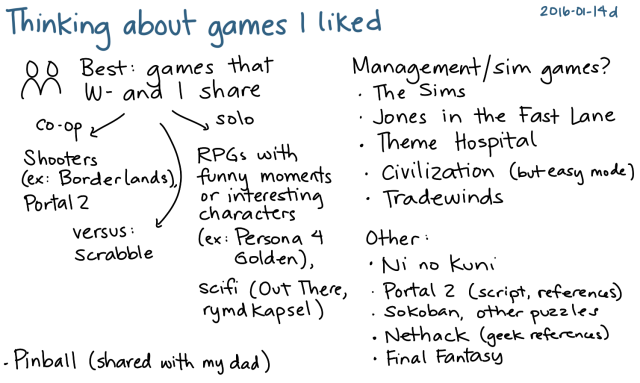 2016-01-14d Thinking about games I liked – index card #play #gaming #leisure.png
Reflecting on the specific games I've liked, I notice that I usually explore games that W-'s also playing as a way of spending time together or sharing experiences. This is how I ended up getting into Borderlands 2 and Persona 4 Golden, and why I'm playing Final Fantasy IX now. On my own, I find that I'm a little partial to time- and resource-management games. I figure that among the popular games of those genres, a game is probably as good as any other. So I'm playing through Rising Star Chef on the tablet, and just for kicks (and Takei's narration, although there's far too little of that), Star Trek: Trexels on my phone.
It seems like most of the popular games have switched to a freemium model, with in-app purchases for the impatient. I find myself liking the built-in timers and rate limits, actually. They're good for reminding me to surface from the game and look around. There's a little bit of pride, too, in the thought: "Aha, I resist your feeble attempts to convince me to spend money." But that's only part of the picture, of course. I pay in time and attention, and often in exposure to advertisements. So if I'm going to do this, I want to make sure that I get what I want out of it.
Here are the pay-offs I think I'm getting from these games, and some alternatives if I want to play with those pay-offs.
2016-01-28c Playing with games – index card #games.png
Games give me a sense of learning and a sense of progress, although they're of arbitrary things. Games also deliberately build on the rush of intermittent rewards.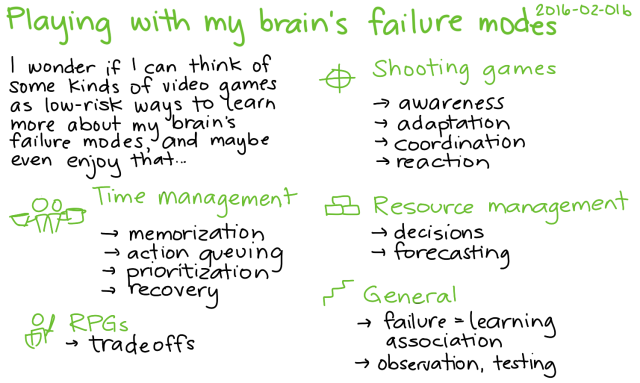 2016-02-01b Playing with my brain's failure modes – index card #gaming.png

The most interesting benefit for me, though, is developing an awareness of how I think in different situations, while keeping things low-risk. Sometimes I catch myself getting flustered and messing up orders in the cooking game, or letting a party member get knocked out in FF9 because I was too distracted to pay attention to the health stats. (Trexels seems more like a virtual pet than anything else; it feels like it's just a matter of time.) I like the way games make me think a few steps ahead, take risks, recover from mistakes, and deal with (or even celebrate) the inevitable failures.

So maybe a little more gaming, with built-in limits thanks to freemium timers and the pull of other things, mixed in with all these other ways to use scattered moments. Hmm…

You can comment with Disqus or you can e-mail me at sacha@sachachua.com.