After I sewed the zipper on the Vogue 8020 dress I made using the butterfly blue fabric from Fabricland, I checked the fit in the mirror. I was beginning to think that the dropped waistline that hovered about my hip wasn't the best place to put it. I tried smoothing my crooked seams, but they refused to behave. The more I looked at the dress, the more I noticed all the little things I needed to fix.
Then my happy-do defense mechanism kicked in, and I realized I was letting myself do negative self-talk. I focused on the positives instead. The dress was wearable, the fabric was pretty, and my friends would let me get away with amateur creations. =) It was my first time to make a dress with princess seams or a dropped waist, and I was happy about how the princess seams in the bodice turned out. And the blue ribbon was a nice touch, although other accents might be more practical in a house with two cats.
I told W-, "Sewing is good practice in celebrating the small wins."
He said, "Everyone starts somewhere."
I said, "It's all about throwing more pots." I started telling him the story. It turned out that he already knew the story. But you might not yet, so here it is:
There's a story about a pottery teacher who divided the class into two groups. A student in one group would be graded based on the quality of one pot that they turned in at the end of the semester, while a student in the other group would be graded based on the sheer number of all the pots submitted throughout the semester. At the end of the semester, students in the second group–those measured only on quantity–had produced better pots than those who had focused on quality. In the process of creating a large number of pots, the second group had learned from their mistakes, while the first group had been paralyzed by endless theorizing about what a perfect pot would be.
Go ahead. Make mistakes and learn from them.
Here's pot #4: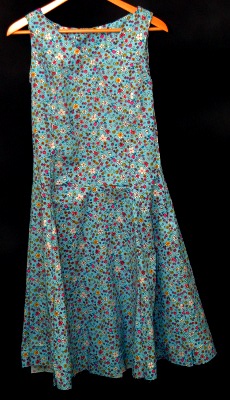 I'm going to hem this dress, and then I'm going to practice straight and curved seams on some scrap cloth, and then I'm going to work on that white embroidered-border dress. I'm going to fill my wardrobe with clothes I've made. Over time, the quality of those clothes will just get better and better.