I used to host get-togethers as a way of thanking friends, catching up with folks, and seeing what interesting conversations come out of mixing people together. I was always stressed out right up to when people started arriving and mingling, though. It turns out that it's totally all right to celebrate one's birthday however you want. For W- and me, quiet days at home win out over noisy celebrations. =) Besides, I'm still in hermit mode these days.
I like looking back at the past year. I'm always surprised by the things that managed to fit in a single year. Was that memory really that recent? Has it really been that long since that other memory? Here are a few of those highlights for me: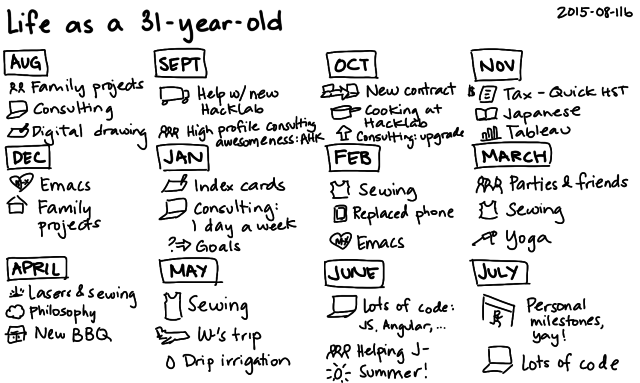 Business

Helping my client through a major upgrade
Enjoying an intense and wonderful sprint of prototyping for a high-profile event
Having fun at an internal hackathon
Improving my skills: Javascript, SQL (SQL Server and PostgreSQL), Tableau
Filing quick method HST on my own
Managing my own health plan

Connecting

Hacklab's move from Kensington Market to Queen Street West – kitting out the kitchen so that it's a pleasure to cook in, and spending hours cooking at open houses
Spending more time at Hacklab
Talking about talking
Becoming closer to friends and talking about deeper topics
Figuring out the space I need, too

Hobbies and interests
Family and life

Working on projects around the house and other things
Reaching personal milestones (10 years in Canada, among other things)
Becoming a Canadian citizen (no longer worrying about getting stuck on the wrong side of a border!)
Making my peace with fuzzy brain and other things
There's been a lot of wrapping things up this year, closing long-running open loops. It feels good to reap the benefits of things planned and started by long-ago selves. I wonder what I can prepare for my future self. I think philosophy and reading will be handy, and maybe the skills and tools I build. Who knows, maybe sewing will be useful too. We'll see!
Last year, I wrote that when I do my "Life as a 31-year-old" review, I'd like to be able to say that:
I have excellent health-related habits: I enjoyed the biking while it lasted. For now, this is temporarily limited to walking. Oh well!
Our home life is wonderful: So much for yummy food, but yay for projects, decluttering, simple lives, great relationships, and so on.
I helped my consulting client make successful transitions: Yup!
I've broadened my business a little bit more. I've made it smaller, actually, but I'm happy with the outcome and with my reasons for doing so.
Here are some other differences:
Compared to 30-year-old me, I've been both a lot more social (November to April or so) and a lot less social (these past few months). Hermit mode is surprisingly comfortable.
I've dialed consulting back to one day a week, although I've also worked more intensely when needed. My current life is very relaxed and laid-back.
Enough of a stock market downturn to make it onto my radar. Still not panicking, though, which is a good sign. Seems to be recovering. I'm in it for the long haul, anyway.
I really like this practice of drawing digital index cards to record my day and build up thoughts. They're more granular and manageable than the 8.5×11″ sheets I used to draw.
I used to draw with more colours. I've been mostly black-and-white these days, but I think I'll get back to colours when I start feeling more playful about thinking.
I learned how to play first-person shooter games. They're actually quite fun. W- and I have been playing Borderlands 2.
I'm more comfortable with fuzziness and uncertainty and experimentation (yay philosophy), which could be good for growing older and taking on more challenges. Life so far is already enough, and anything more than this is a bonus. I wonder: what's beyond getting things done?
I've gotten to the point of being able to wear something I made every day, if I want to. I don't always do so, but I like having the option. It was surprisingly easy and a good opportunity to geek out more. =)
A snapshot of everyday life, so that I can remember what it was like at this time:
I'm home most of the time, although sometimes I go for a walk to the supermarket or the library. It's a little frustrating feeling fuzzy or bleah, but at the same time, it's good philosophy practice. It's hard to write, but if I keep collecting fragments of thoughts, I know they'll add up. Voluntary discomfort, momentary annoyances, and all that. With any luck, I'll probably shift out of hermit mode sometime over the next few weeks. In the meantime, W- and I play Borderlands 2 in the evening. It's fun coordinating our attacks and swapping loot.
The blueberries and the strawberries in our garden have been extra-yummy this summer. Yay! The drip irrigation system that W- and I put in has been paying off, too. The garden's a lot more lively now than it was last year.
I have no idea what next year will be like, but I look forward to handling it with equanimity.
If you're curious, here are some other yearly reviews I've written (both birthday-related and calendar-related). It's fun having an archive. =)
View or add comments